Getting creative to fulfill our passion for volunteering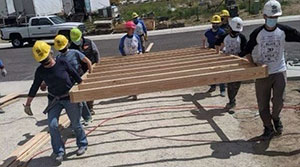 While the pandemic increased the need for community support, it didn't dampen our desire to give back. From sewing facemasks to providing meals, our team members exemplified our commitment to giving back. More than 400 employees spent over 10,000 hours volunteering in 2020, and that giving spirit has continued into 2021 at an even greater pace.
Here are several examples of our teammates' generosity:
A group of Idaho employees provided 100 grab-and-go lunches every day for a week to children in an area of Boise experiencing a staggeringly high level of food insecurity. It was part of the United Way of Treasure Valley Days of Caring.
One employee used a home 3-D printer in his spare time to produce a device to make facemasks more comfortable. He then donated the flexible plastic hooks worn at the back of the head to healthcare workers experiencing discomfort from daylong mask wearing.
A team of Spokane, Washington-area employees helped build two new homes for Habitat for Humanity. They framed the houses in the city of Deer Park, just north of Spokane. Habitat focuses on providing affordable housing through the hands-on work of volunteers and future homeowners.
More than two dozen people in our Bothell, Washington, Operations Center donated more than 500 items of food—or about 1,000 pounds—when an urgent call for help came from a local charitable organization. On short notice and in the middle of the pandemic, the team found ways to collect and deliver food while keeping themselves and others safe.
A warm, nutritious meal is at the very foundation of basic necessities, which is why our Walla Walla team members have been providing dinner to those in need one night a month, every month, for more than 14 years. While that streak of volunteer work was in jeopardy because of the pandemic, our team wouldn't quit. They got creative by working with local restaurants to provide meals our employees could deliver to Christian Aid Center, a charitable organization that provides shelter and food to those in need.
"This project is one more way we can demonstrate we care about the community, and are connected and responsive to their needs'" said Walla Walla Main Branch Manager Kathy Miller. "It's important that we keep our commitments, even during challenging times."